What is The Boat Race?
The Boat Race is an annual contest between rowing crews from Oxford and Cambridge Universities that takes place close to Easter each year on the River Thames in south west London between Putney and Mortlake. The first Men's Boat Race took place in 1829 in Henley on Thames following a challenge between old school friends. Since the second Race in 1836 the contest has taken place in London. The first Women's Boat Race took place in 1927 and moved to the Championship Course in 2015.
The Clubs

Cambridge Boat Club wear light blue, whilst Oxford crews wear dark blue. The teams compete in eight-oared rowing boats, each steered by a cox who sits in the stern or back of the boat. The cox is the only crew member who faces in the direction they are moving. All four Clubs train and select the rowers and cox for their university's crew. All of the crew members are students. The four crews are known as the Blue Boats after the award their universities give them for competing in the Race. Both universities have reserve crews. For the men, Oxford's reserve boat is called Isis, Cambridge's is called Goldie. The women's reserve boats are called Osiris (Oxford) and Blondie (Cambridge).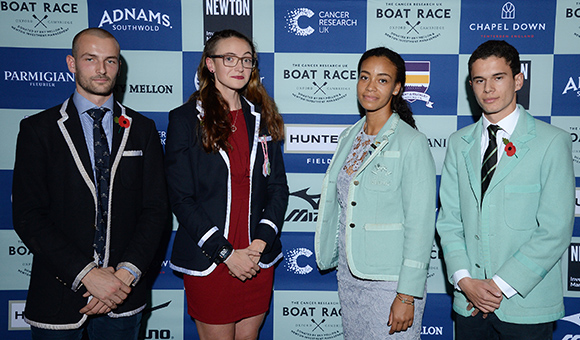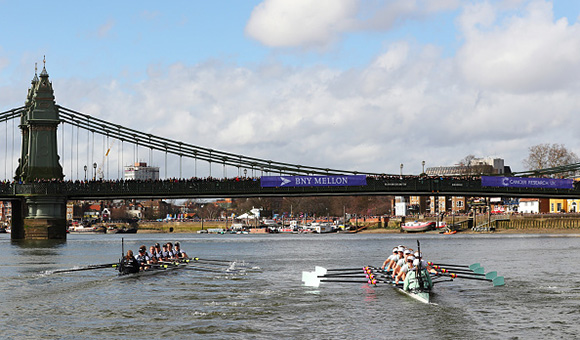 The Championship Course
The Boat Race course, known as the Championship Course is 4 miles, 374 yards or 6.8 km long. It stretches between Putney and Mortlake on the River Thames in south west London. The crews who win the coin toss before the Race chose which side (or station) they will race on. The stations are known as Middlesex and Surrey, with advantages and disadvantages for each side because of the bends in the river. The Race starts downstream of Putney Bridge and passes under Hammersmith Bridge and Barnes Bridge before finishing just before Chiswick Bridge. The record time over the course in The Men's Boat Race is 16 minutes 19 seconds, set by Cambridge in 1998 and for The Women's Boat Race is 18 minutes 33 seconds set by Cambridge in 2017.
> For more details about The Championship Course click here
The Women's Boat Race
The Women's Boat Race has enjoyed a peripatetic existence since its foundation in 1927, only becoming a permanent fixture in the mid 1960's. However even into that decade women's crews faced hostility from some of their male counterparts, who didn't believe women should be allowed to row, let alone race. Once the Race moved to Henley in the late 1970's there was a noticeable improvement in standards and the rivalry become a permanent feature of the Oxbridge sporting landscape. The Women's Boat Race moved to the Tideway in 2015.