Fixture OUBC vs Leander A
By Tom Ransley 
"Two-weeks is a bit close if we need to strip the engine out," said Sean Bowden prior to his side's final fixture – this one against Leander Club. The Oxford University Boat Club (OUBC) Chief Coach was musing on the prospect of a poor performance. So, how did Bowden's Blue Boat fair against the Pink Palace?
Grey, damp, and blustery conditions met the crews at the start, everyone well aware rougher water awaited them beyond St Paul's. It was to be a three-mile drag race to the crossing point. Earlier Leander lost the coin toss and Oxford chose the Surrey station.
Despite the squall, it was a slick start by Oxford. "We didn't have our best start," Leander cox Jack Tottem later reflected. "Fair play to Oxford, they took an aggressive race plan on the Surrey station and put us under a lot of pressure early on."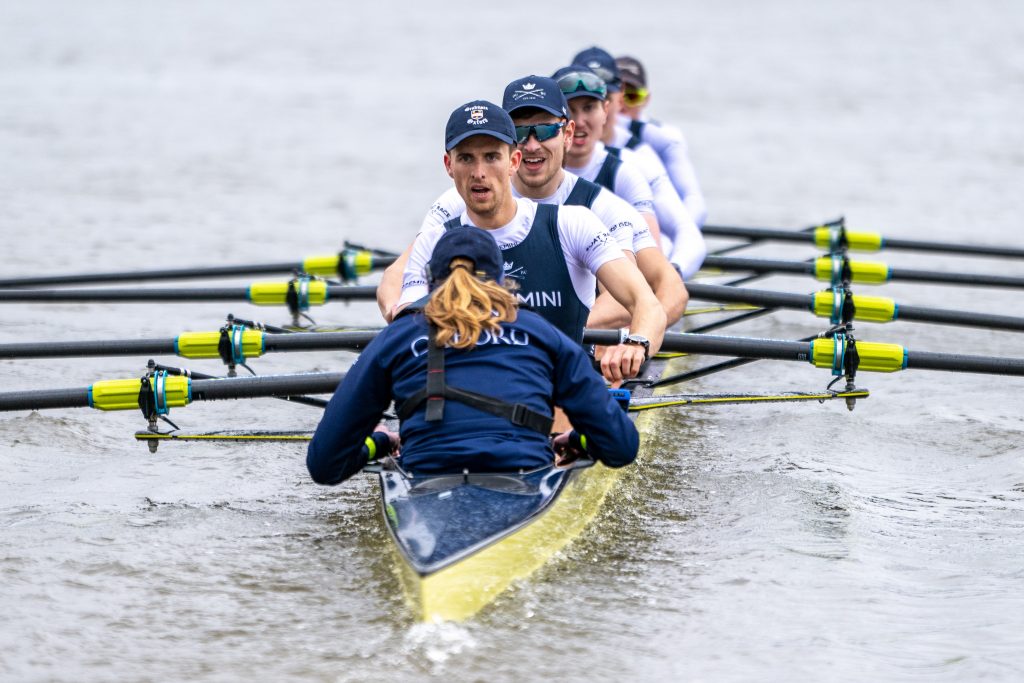 No quarter was given by the high rating, fast racing eights. Each cox determined to position their crew in the quickest water, a precursor of things to come. As they rounded the Fulham Football Club Leander regained ground. OUBC's Australian cox Anna O'Hanlon squeezed across but incurred a Winkless-warning.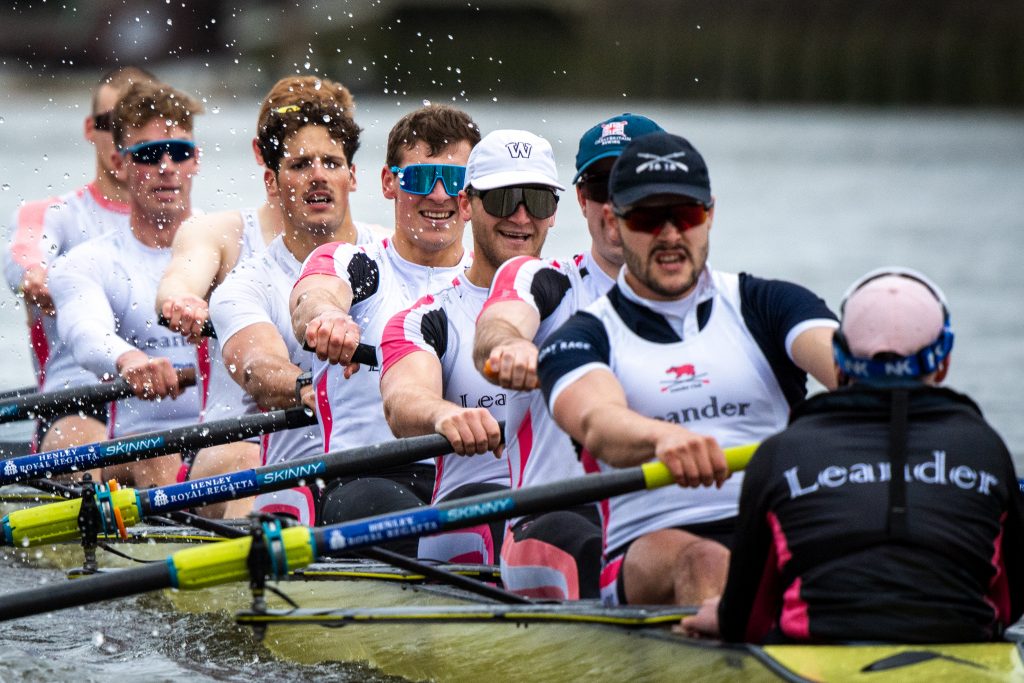 Noting the shift in momentum, Leander launched themselves down the Crabtree Reach. Oxford kept their composure . Their stokeman, Felix Drinkall set a metronomic rhythm. Tension rose as opposing blades threaded, unthreaded and rethreaded themselves for at least 500 meters, before the inevitable clash. "Leander move!"
Too late, Oxford's bowman James Forward crabs 'n' recovers in one seamless motion. Two strokes later, James Doran at five, misses a stroke yet miraculously avoids a boat-stopper. Nevertheless, the Dark Blues drop back, and trail Leander by three-quarters of a length.
O'Hanlon holds her line as Tottem attempts to capitalise on an unripe lead. "I knew I was being warned but I didn't think it was too much of an infringement," said Tottem on his course. O'Hanlon saw it differently: "He was being warned. He didn't move. We clashed. He was in my water".
As Hammersmith Bridge grew on the horizon, Leander's chances shrank along with their lead. Oxford possessed the stronger base pace and the forthcoming Surrey bend advantage. They rowed through the men in pink and drew level at St Paul's. The conditions turned nasty.
"It was way more fun in the bows," said Forward. "Every single stroke a wave crashed onto my back! Very entertaining. Often the defining moments of the Boat Race are when the water is terrible. It is the crew that handles it better that often ends up winning."
True at least for this fixture. O'Hanlon found slightly better water on the inside and kept Leander out. Yet curiously, when presented with the slenderest of open water margins she dived across.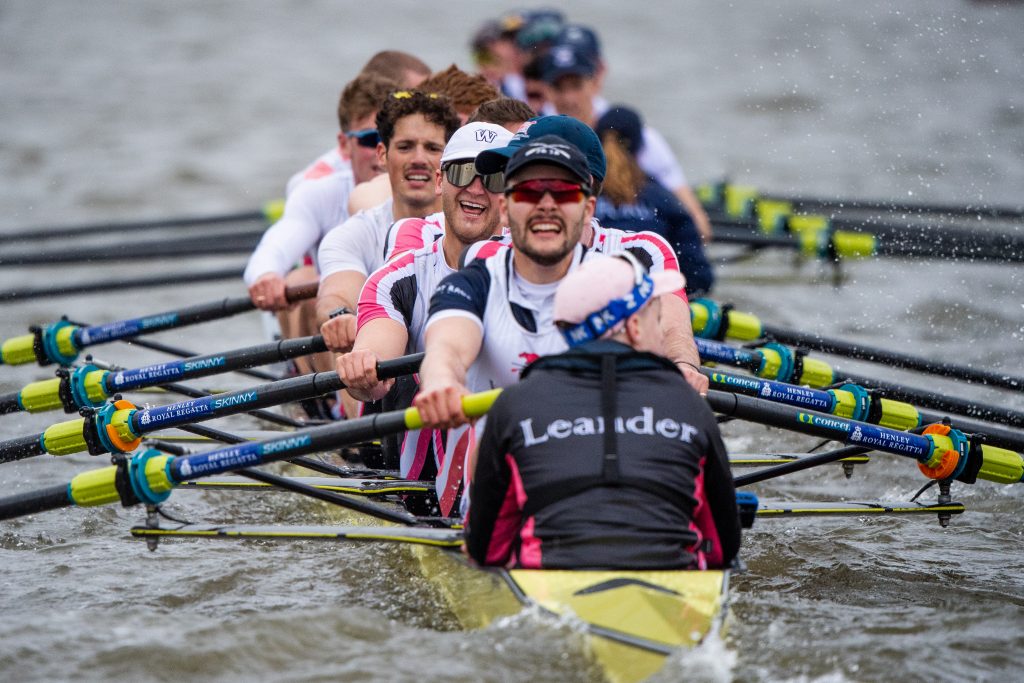 "I did cut into their water," said O'Hanlon. "Leander came in behind me, knowing that I was slightly over, they tried to force a bump and get the disqualification [of OUBC]." In a re-run, or a Boat Race, would she do it again? "I'd probably be slightly less aggressive. Knowing that I was up, I would take more confidence and aim for the line rather than get in his way. I would be a bit more conservative."
A tired Leander were unable to bump, and Oxford held on for a one and a quarter length verdict. After the finish Tottem appealed but to no avail. Umpire Winkless told him if Leander had won, she would have disqualified him for his steering before Harrods: "I am going to let the result stand," she said.
"As an umpire you never want two crews line-a-tail. I warned Anna a couple of times but there was no foul," said Winkless after the race. "I wasn't delighted by what Anna did. I would have liked for the crews to stay apart a bit more and for a little longer, but it was nothing that needed thinking about in terms of a disqualification."
A barnburner of a race and Oxford's engine remains intact. The refit can wait, Bowden need only tune, tweak, and polish the Dark Blue machine prior to racing Cambridge on March 26th.
Tom Ransley is the Editor of Row360. He was on the GB national team for 10 years winning Olympic bronze at London 2012 and Olympic gold at Rio 2016, both in the men's eight. He is a Cambridge Blue and raced the Boat Race twice.
Watch the race here: