Fixture OUWBC vs Brookes
Report
By Tom Ransley
It was never going to be an easy final fixture for Oxford University Women's Boat Club (OUWBC).
Neighbours, Oxford Brookes, are formidable opponents. Brookes, former Henley Royal Regatta Island Challenge Cup winners were fresh from a third place finish at the 2023 Women's Head of the River. Since Brookes' five-length fixture win (from Putney to the Chiswick Eyot) against Cambridge in January, they kept things consistent with just one change in the line-up with Claire Feerick replacing Anna Bloomer at seven.
OUWBC chose the Surrey station after winning the coin toss. On the start line, their cox, Tara Slade, was the last to drop her hand, signalling to Umpire Matt Smith that both crews were ready. Almost immediately he dropped his flag and set the crews off.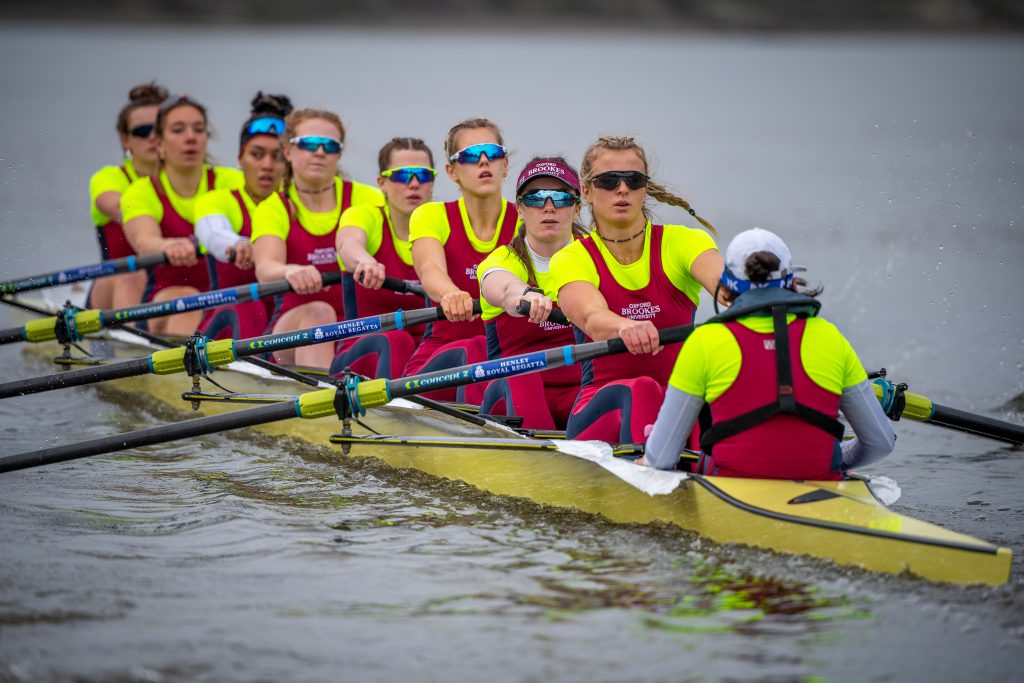 Both crews enjoyed a clean start but Brookes' superior power and technical prowess started to show. Inching out, Brookes were more direct at the front end than their dark blue opponents. By catching the boat on the rise, they maintained momentum and lightened the hull: a mainstay of the Brookes coaching method.
As the two crews sped by Putney embankment Brookes had a third of a length lead, and continued to move. Alongside Bishops Park, Umpire Matt Smith was called into action as the two crews converged. Brookes strokewoman Brenna Randall clashed hard with Oxford's bowwoman Laurel Kaye before cox Sofia Bernal heeded Smith's warnings and steered to Middlesex.
The clash did little to impede the strong, cohesive rhythm established by Randall, and her crew readied themselves to blast open the race – Brookes now up by a length, with the advantage of the first Middlesex bend in their favour. Interestingly, the clash also seemed to augment the sharpness of Oxford's blade work; less hang in the air prior to burying the blades and a more determined drive under the water. Nevertheless, it was Brookes in command.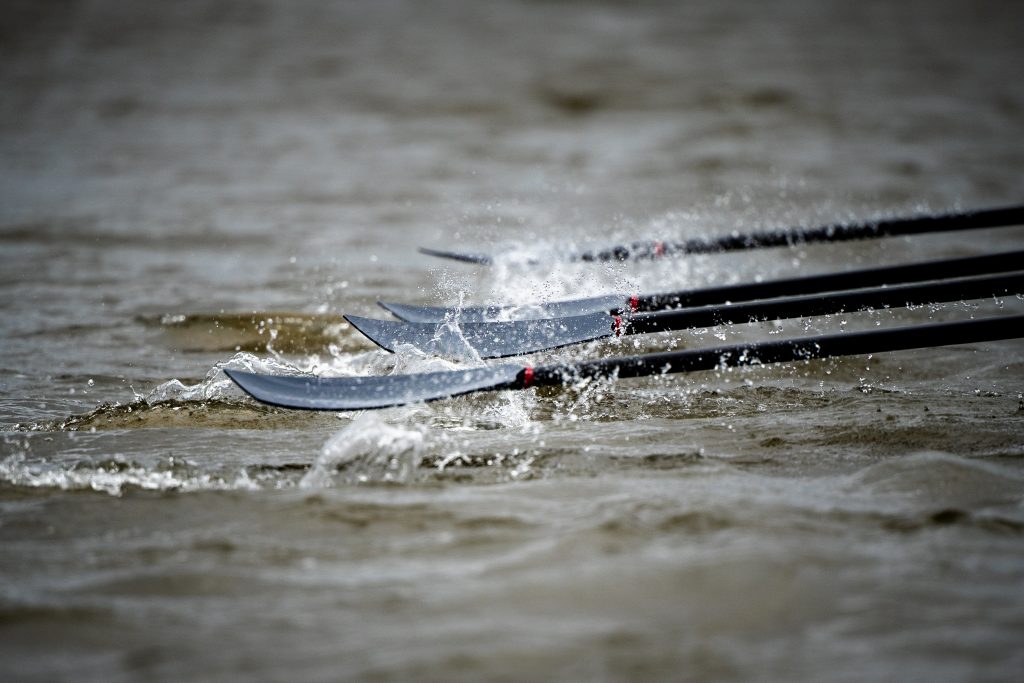 Past the Mile Post, up Crabtree Reach, and around Harrods, the hi-vis vested, tricoloured Brookes rowers effectively ended the Oxford Derby. They moved well clear to an unassailable four length lead. Bernal was free to steer beneath the famous second lamppost under Hammersmith Bridge, and swept around St Paul's, urging her crew on through the choppy waters of Chiswick Reach. The race finished at the crossing point with Brookes winning by six lengths.
"It is a great honour," said Bernal – pleased to be match racing the Blues. "That was such an amazing race. Oxford are so level-headed." Bernal's bowwoman, Marth Birtles, is a former OUWBC alum who admitted to mixed feelings. "I don't like seeing them down," said Birtles. "I really hope they beat Cambridge." Birtles has come full circle since her time as a Boat Race athlete, "My first fixture was against Brookes and I remember being really nervous".

"Congratulations to Brookes, they are a classy outfit with a super eight," said OUWBC Chief Coach Andy Nelder who revealed illness prevented the dark blues from building into a "crescendo this weekend". "They've not been able to show their absolute best. We only rowed the boat for the first time on Friday and did not have ideal preparation. They've come up against a very fast crew who has shown us some things we definitely need to get better at. We will continue to put time into [this] and keep developing the rowing as best we can."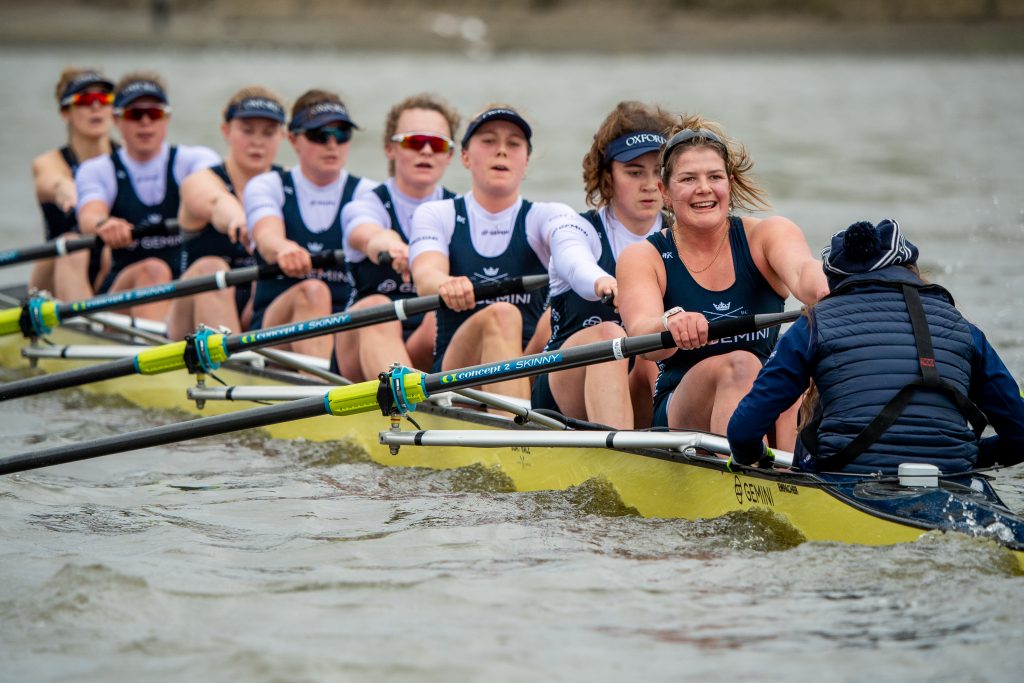 "Morale is okay – obviously today was hard but we know what we need to work on," said OUWBC President Sara Helin. Reflecting on the heavy blade clashes she felt her crew could still do better, but said, "it was a good experience". Adding, "It is exciting and good to learn from before the Boat Race in two weeks. We've work to do and that's a good thing".

"It feels very real now," said cox Slade. "Our coach had some wise words, 'When it feels close and real that means you are ready.' We're feeling ready!"
Tom Ransley is the Editor of Row360. He was on the GB national team for 10 years winning Olympic bronze at London 2012 and Olympic gold at Rio 2016, both in the men's eight. He is a Cambridge Blue and raced the Boat Race twice.
Watch the race here: